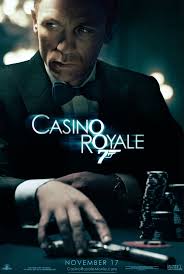 Omdat ik vanavond naar Quantum Of Solace ga kijken, en deze Bond film deels het vervolg is op Casino Royale (de vorige film), heb ik toch maar besloten de vorige Bond film nog eens te bekijken.




Casino Royale is de 21ste James Bondfilm uit 2006 die is gebaseerd op het gelijknamige boek van Ian 
Fleming uit 1953. Daniel Craig speelt voor het eerst geheim agent James Bond. In de voorafgaande films 
werd Bond gespeeld door Sean Connery, George Lazenby, Roger Moore, Timothy Dalton en Pierce Brosnan. 
De regie werd verzorgd door GoldenEye-regisseur Martin Campbell.

Deze 21ste Bondfilm is een zogenaamde 'reboot': in het begin van deze film wordt onder andere 
getoond hoe 007 aan zijn vergunning om te doden komt. De film lijkt daarom ook op From Russia with 
Love, in deze Bondfilm wordt ook dieper ingegaan op de persoon James Bond, en minder op de special-
effects en de actie. Dit waren de kritiekpunten in de vorige Bondfilms, The World Is Not Enough en 
Die Another Day.

De film, geproduceerd door EON Productions, ging in première op 17 november 2006. In België ging de 
film in première op 22 november 2006 en in Nederland op 23 november 2006.

Het vervolg op de film, Quantum of Solace, ging in Nederland in première op 6 november 2008. Dit is 
beduidend korter dan de tijd (4 jaar) tussen deze Bond en de vorige.

Regisseur Martin Campbell regisseerde al eerder een Bondfilm, namelijk GoldenEye. Met deze film wist 
Campbell de Bondfilms een nieuw leven in te blazen.

Bron: Wikipedia



Om eerlijk te zijn, ik vond hem echt niet goed :p. Ik ben meer gewoon van Bond films. Craig is in mijn ogen ook geen persoon om Bond te spelen. Pierce Brosnan was veruit de beste acteur hierin, na Timothy Dalton en Roger Moore!



Verwarrende verhaallijn, raar einde en soms te langdradige dialogen.

Wel veel sjieke actie-scènes (denk maar aan de actie op de kraan).

Hopelijk wordt de opvolger toch iets beter!



Conclusie: 6/10



Comments
ik ben blij dat ik niet de enige die er zo over denkt. iedereen was zo super positief over casino royale en daniel craig.
ik vond hem zeker niet slecht, ma toch ook niet super... bij sommige momenten gewoon om bij in slaap te vallen.
zeker niet de beste bondfilm die er is, en voor mij ook zeker niet de beste james bond die er is!
de nieuwe moet ik nog zien, ma tis opnieuw met die blonde schijtluis, dus ik verwacht er niet te veel van. ik heb bovendien al gehoord van mensen die casino royal WEL goed vonden dat quantum of solace SLECHT is, dus ik verwacht er helemaal niet veel van in feite :p
Add new comment